The Estonians are understandably nervous
about a NATO ally's plan to sell warships
to the Russians. And now they're
asking for clarification from the French about it
.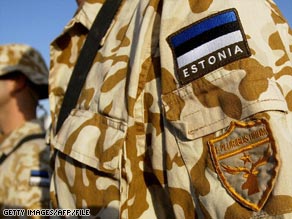 Estonia said Tuesday it would press Paris over French plans to sell an assault ship to Russia which have caused jitters in the Baltic state amid rocky ties with its Soviet-era master Moscow.
Foreign Minister Urmas Paet told reporters he wanted fellow NATO and EUmember France to say clearly if the helicopter-carrier would be sold 'with or without top military technology'.

'We will ask France for information about the deal and the matter will be also be discussed at the EU's working group on strategic goods,' he said.

Senior defence ministry official Harri Tiido underlined Tallinn's concerns.

'If it's a metal box, it is one thing, but if it's state-of-the-art technology, things will be different,' he told reporters.

Russian and French officials have confirmed Moscow is in talks to buy aMistral ship along with a licence to produce at least four others.
By: Brant