The GAO has an estimate of the
cost of maintaining US forces forward-deployed in Europe
, and it's not pretty.
The Army can expect to be hit with a bill of up to $2 billion in extra costs over the next 10 years should it decide to retain four, rather than two, combat brigades in Europe, according to the Government Accountability Office.

The GAO report, issued Sept. 13, comes two months in advance of a NATO summit in Lisbon, Portugal, and an assessment of a U.S. Army Europe basing plan proposed by the Pentagon in February as part of the 2010 Quadrennial Defense Review.

The QDR proposal calls for four units to stay in Europe for the long term: The 170th and 172nd Infantry Brigade Combat Teams and the 2nd Stryker Brigade Combat Team would remain in Germany; the fourth unit, the 173rd Airborne Brigade Combat Team, would remain in northern Italy.

Recommendations from senior U.S. commanders prompted the QDR plan, citing a changing security dynamic in Europe and a requirement to train and work with NATO allies, many of them former Warsaw Pact members.

Until 2007, the Army was conducting a phased drawdown in Europe to reduce the number of soldiers in its largest overseas command from 62,000 to 28,000, while reducing the number of brigade combat teams from four to two.

For the past three years, the drawdown essentially has been on hold at 40,000 soldiers, although many troops have been consolidated into "enduring communities" in Germany (Wiesbaden, Baumholder, Kaiserslautern, Stuttgart, Ansbach, Grafenwoehr/Vilseck/Hohenfels) and Vicenza, Italy.

Before the drawdown was halted, planning officials expected the force structure cuts would save billions in overseas stationing costs and allow installations at Bamberg and Schweinfurt, both in Germany, to close.
Some of the bases are on this map: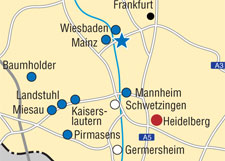 By: Brant