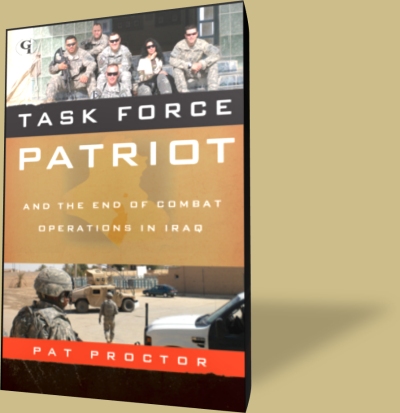 If you're in the Chicago area and want to catch author/game designer Pat Proctor,
hell be at the First Division Museum at Cantigny
, in the 'burbs. He'll be talking about his latest book,
Task Force Patriot and the End of Combat Operations in Iraq
.
If you get a chance to go, tell him you saw it on GrogNews!
Proctor's abbreviated bio from the TaskForcePatriotBook.com site fails to mention his career as a game designer, but he's also the guy behind the
Air Assault Task Force
series of computer games, and PROSim.
Pat Proctor is a US Army field artillery lieutenant colonel with over 17 years of active service. In 2007, he served in Iraq as a member of General Petraeus' and Ambassador Crocker's Joint Strategic Assessment Team, mapping the future for post-surge Iraq. Pat returned for a second tour, in Northern Iraq, as a battalion operations officer in the 1st Infantry Division.

He holds masters of military arts and sciences for strategy and theater operations from the US Command and General Staff College and the School of Advanced Military Studies, respectively. He is currently a doctoral student in history at Kansas State University.

Pat's recent publications include "Message versus Perception during the Americanization of the Vietnam War" (The Historian, Spring 2011), "Fighting to Understand: A Practical Example of Design at the Battalion Level" (Military Review, March-April 2011), and "The Mythical Shi'a Crescent" (Parameters, Spring 2008 and Iran International Times, 23 May 2008).
Maybe we can badger him for some thoughts for GrogNews some time.
By: Brant